Season passes are one of the most common ways that schools use HomeTown's pass feature, but which of these additional passes might benefit your programs? Here's a look at a few ways schools use passes to drive ticket sales and offer their students, their families, and fans the options they really want.
What are Passes?
Passes provide an easy way for fans to purchase entry to multiple events at one time, while providing fans with flexible options. Select the events your school wants to sell a pass for, most commonly this is used to provide a single digital pass that grants access to an athletic season's events. Then, fans receive one QR code via email or the HomeTown Fan App that can be scanned for entry.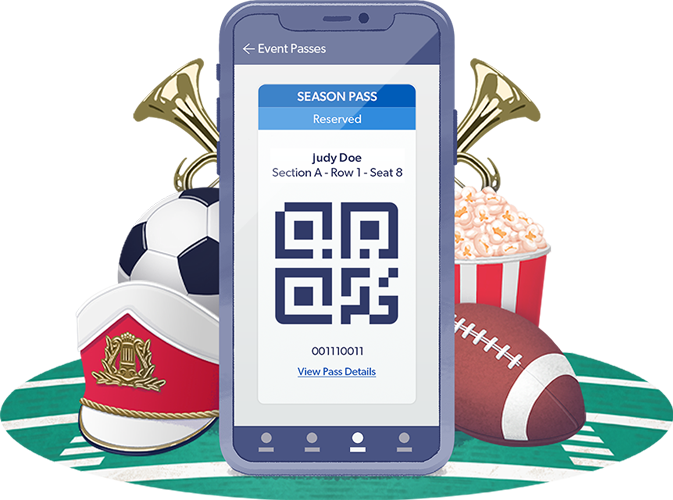 Multi-Sport Passes
With a multi-sport pass, the passholder can access events beyond a single sport and athletic season. With one purchase, you can create a simple way for your most loyal fans to attend sporting events within the same season. This option can be especially useful for parents who have student athletes in multiple sports, for example a family who has a basketball player and a wrestler, may opt for multi-sport passes to access both of these winter sports.
Student and Parent Passes
Some schools opt to offer an exclusive and convenient way for students and parents to access multiple events with passes. Using our built-in passcodes feature, student ID numbers or a unique code can be given to each eligible person to unlock passes with a particular set of events or at a special rate.
Family Passes
Family passes can be set up to allow one pass to earn entry for multiple people in a family. Settings allow you to set a pass from one valid scan per event to multiple entry scans per event. Family passes can offer a set number of scans per event, allowing a family to attend events without worrying about purchasing single game tickets.
Want to learn more about using HomeTown's platform to sell passes and single tickets to your athletics events? Set up a time to talk with our team to gather the information you need and get started with our digital ticketing solution.