HomeTown Fan App makes buying and managing tickets for school events convenient, quick and easy from any mobile device
Columbus, OH – August 11, 2021
For Immediate Release
Just in time for a new year at high schools across the country, HomeTown Ticketing, the leading high school digital ticketing platform in the U.S., is modernizing the way high school sports fans buy and manage tickets to their favorite events.
The new HomeTown Fan App, launched today, is now available to thousands of high school fan bases across the country allowing them to easily buy and manage their entire ticketing experience with the tap of a button on a mobile device.
"We want to make it as easy as possible for parents, grandparents and other high school sports fans to get into the game or theatre. People buy almost everything else on their phones. Why should events at the high school level be any different?" said Ryan Hart, HomeTown Ticketing Chairman and CEO.
Momentum for digital ticketing at the high school level has been building for several years and has been accelerated over the last 18 months. HomeTown now provides paperless ticketing platforms to more than 10,000 schools nationwide.
"For years, people have been purchasing tickets for pro sporting events, concerts, movies and shows through apps on their smart device. We are so excited to help schools across the country offer this digital ticketing option to their fans, making it easier than ever to cheer on their favorite students on the field or on stage," said HomeTown Vice President of Marketing, Connor Thinnes.
The HomeTown Fan App will allow guests to manage their entire ticketing experience from one place on most mobile devices including:

Search for local events by school name and school zip code
Choose their favorite schools and organizations to keep updated on the latest events
Purchase and access all event tickets from their iOS or Android device, making it easy to review purchases and scan at the gate.
Enter the events by scanning all tickets and passed directly from the app, providing for true touchless redemption.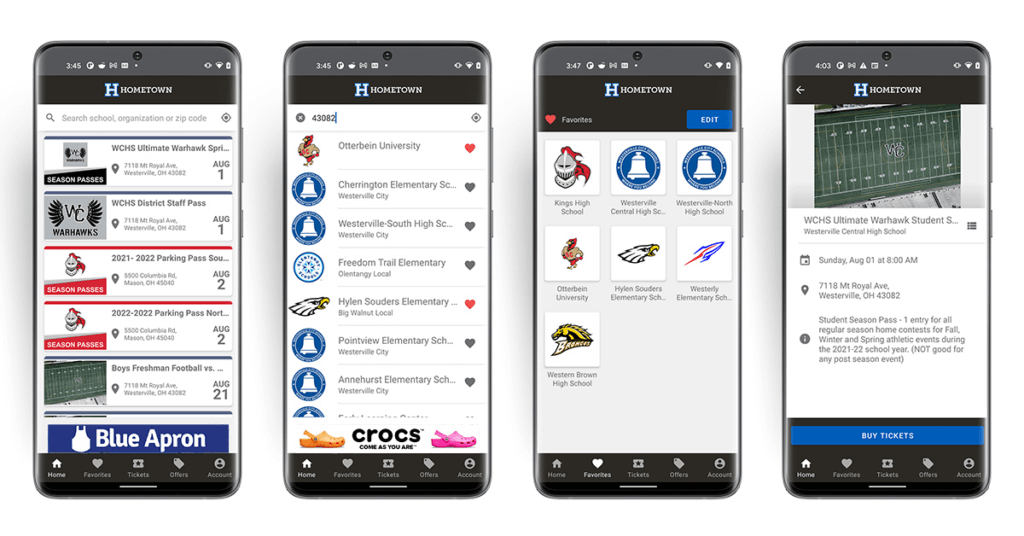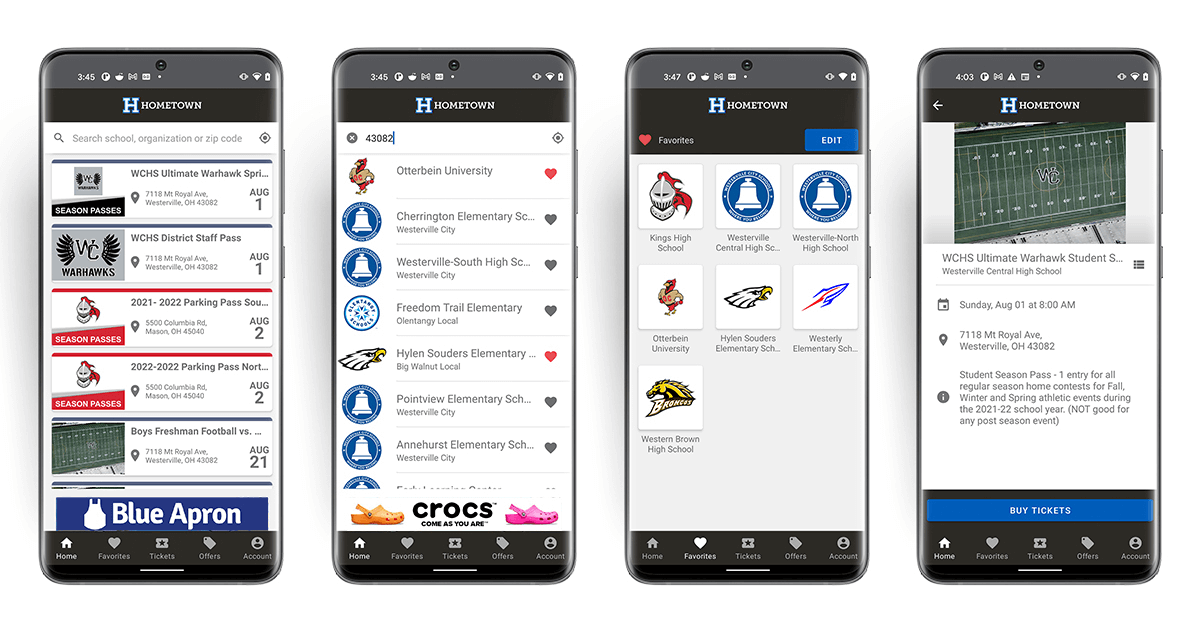 More schools than ever are making digital ticketing available to create a convenient experience for fans and guests and allow school staff to more easily and effectively manage all public events that require tickets for entry. Using HomeTown Ticketing for event management also has several benefits to the district including:
Paperless transactions are easier to keep track of and help reduce accounting errors
Ability to control maximum capacity for each venue or event to manage attendance safely and efficiently
Eliminates the need for in person advanced ticket purchases at school
Maximizes efficiencies of athletic and administrative staff that oversee the ticketing process
Eliminates the need for handling cash by offering cashless payment options for fans and
Speeds up event admissions
For more information about the digital ticketing process go to www.hometownticketing.com.
About HomeTown Ticketing
HomeTown Ticketing is the leading digital ticketing provider in both K-12 and collegiate spaces, serving schools, districts, conferences, and associations. A professional-level and fully automated ticketing solution, HomeTown's in-house developed, proprietary ticketing platform offers unmatched value with easy-to-use purchasing and redemption options, custom box-offices, event and fan specific reporting tools and secure financial management features. Intuitive and easy-to-use for both event organizers and ticket buyers, HomeTown never touches the event organizer's funds, which are available and accessible within 24 hours of a ticket sale. Learn more about HomeTown at www.hometownticketing.com.