COLUMBUS, OH – April 20, 2021
For Immediate Release
HomeTown Ticketing has been named the Official Online Ticketing Provider for the Northeast Conference (NEC). Since its founding in 1981 as a basketball-only organization, the NEC has grown substantially. Today, the conference supports 24 sports for men and women and maintains automatic access to 16 different NCAA Championships. With 10 member institutions, this NCAA Division I conference is an exciting part of the collegiate sports landscape and one which continues to strive toward excellence at the highest level of NCAA competition.
HomeTown is proud to provide the ticketing platform and tools the conference will use to power their online ticket sales and meet the needs of their venues and events. With Spring championships approaching, we are excited to assist the NEC with making their events run smoothly and safely as we celebrate the skills and success of their hard-working athletes.
"The NEC is proud to become the first NCAA Division I conference to partner with Hometown Ticketing. Hometown Ticketing will provide the NEC with a state-of-the-art digital ticketing platform to utilize at league championships, and we look forward to working with their team."
— Noreen Morris, Commissioner | Northeast Conference
"Our team sees this new partnership with the NEC, our first NCAA Division I conference, as an important milestone in our company's growth. We are excited to share the HomeTown Ticketing platform and its many features with the NEC to make ticketing their league championships a smooth and simple process."
— Ryan Hart, Chairman & CEO | HomeTown Ticketing, Inc.
This partnership was brokered by Collegiate Sports Management Group (CSMG) who represent the ECAC for media and sponsorship partnerships.
ABOUT NORTHEAST CONFERENCE
Now celebrating its 40th anniversary season, the Northeast Conference (NEC) is an NCAA Division I collegiate athletic association consisting of 10 institutions of higher learning located throughout seven states. Media coverage of the NEC extends to a number of the largest markets in the United States including New York (#1), Boston (#9), Baltimore (#26), Hartford/New Haven (#33) and Providence (#53). Founded in 1981 as the basketball-only ECAC Metro Conference, the NEC has grown to sponsor 24 championship sports for men and women and now enjoys automatic access to 16 different NCAA Championships. NEC member institutions include Bryant, Central Connecticut, Fairleigh Dickinson, LIU, Merrimack, Mount St. Mary's, Sacred Heart, St. Francis Brooklyn, Saint Francis U and Wagner. For more information on the NEC, visit the league's official website (www.northeastconference.org) and digital network (www.necfrontrow.com), or follow the league on Twitter, Facebook, YouTube, Instagram and Snapchat, all @NECsports.
ABOUT HOMETOWN TICKETING
HomeTown Ticketing is the leading digital ticketing provider in both K-12 and collegiate spaces, serving schools, districts, conferences, and associations. A professional-level and fully automated ticketing solution, HomeTown's in-house developed, proprietary ticketing platform is tailored specifically to the needs of schools and governing bodies. Benefits of the HomeTown system include unmatched value through easy-to-use purchasing and redemption options, custom box-offices, event and fan specific reporting tools, and secure financial management features to streamline operations and increase financial transparency. Intuitive and easy-to-use for both event organizers and ticket buyers, HomeTown never touches the event organizer's funds, which are available and accessible within 24 hours from a ticket sale. Learn more about HomeTown at hometownticketing.com | @hometowntix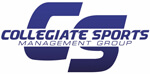 ABOUT COLLEGIATE SPORTS MANAGEMENT GROUP
Founded in 2014, CSMG is a College Sports Properties Group that drives the business performance of college athletic conferences and schools, providing them with a successful growth strategy, and generating revenue to support their athletic department and initiatives. CSMG specializes in Marketing Rights/Revenue Generation, Content Creation & Distribution, Media Rights/Revenue Generation, Content Creation & Distribution, Media Rights Strategy & Negotiation, Sponsorship Sales, Name Image and Likeness Solutions, Licensing, Event Production & Management, Ticketing, and Esports. Visit www.collegiatesmg.com for more information.