COLUMBUS, OH – December 22, 2020
For Immediate Release
HomeTown Ticketing has been named the Official Ticketing Partner of The City University of New York Athletic Conference (CUNYAC). HomeTown Ticketing and CUNYAC will collaborate on ticket sales for all 24 championship events and will provide convenient online ticketing options for consumers as well as touchless, cashless solutions to account for social distancing.
This partnership was brokered by Collegiate Sports Management Group (CSMG) which represents the CUNYAC for sponsorship, media rights and licensing.
"The CUNY Athletic Conference is very excited to be partnering with HomeTown Ticketing. Hometown Ticketing is the leader in digital ticketing and we look forward to implementing its state-of-the-art touch-free digital platform at our championships and special events."

– Matthew Torres, Assistant Director for Media Relations | CUNYAC
"HomeTown Ticketing is proud to partner with The City University of New York Athletic Conference, and to be able to provide our state-of-the-art digital ticketing solution for their future tournaments and championships. Our platform will allow fans to purchase tickets online and engage with the CUNYAC in a secure, simple way for years to come."

— Ryan Hart, Chairman & CEO | HomeTown Ticketing, Inc.
ABOUT THE CITY UNIVERSITY OF NEW YORK ATHLETIC CONFERENCE
The City University of New York Athletic Conference (CUNYAC) is an NCAA Division III and NJCAA Division III conference with 13 members that reach across all five boroughs of New York City. Since officially coming into existence in 1987, the conference has been amongst the leaders in Division III with initiatives that focus on the student as much as the athlete in student-athlete. The conference sponsors 19 Four-Year College Championships, 13 Community College Championships, the Michael Steuerman Scholar-Athlete Awards Dinner, the Basketball Press Luncheon, the SAAC Leadership Seminar, a CUNY-Wide Intramurals Championship Series, and the CUNYAC Golf Classic. With the help of four corporate sponsors, the conference has been ahead of the competition. CUNYAC boasts award-winning publications, award-winning events, unmatched television exposure, and one of the best websites in Division III while continuously searching for ways to improve the quality of the athletics experience.
ABOUT HOMETOWN TICKETING
HomeTown Ticketing is the leading digital ticketing provider in K-12 and collegiate spaces, serving schools, districts, conferences, and associations at no cost. A professional-level and fully automated ticketing solution, HomeTown's in-house developed, proprietary ticketing platform is tailored specifically to the needs of schools and governing bodies. Benefits of the HomeTown system include unmatched value through easy-to-use purchasing and redemption options, custom box-offices, event and fan specific reporting tools, and secure financial management features to streamline operations and increase financial transparency. Intuitive and easy-to-use for both event organizers and ticket buyers, HomeTown never touches the event organizer's funds, which are available and accessible within 24h from a ticket sale. Learn more about HomeTown at www.hometownticketing.com | @hometowntix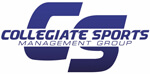 ABOUT COLLEGIATE SPORTS MANAGEMENT GROUP
CSMG is a College Sports Properties Group that drives the business performance of college athletic conferences and schools, providing them with a successful growth strategy, and generating revenue to support their athletic department and initiatives. CSMG specializes in Marketing Rights/Revenue Generation, Content Creation & Distribution, Media Rights Strategy & Negotiation, Sponsorship Sales, Name Image and Likeness Solutions, Licensing, Event Production & Management, Ticketing and Esports. Visit www.collegiatesmg.com for more information.