Looking for ways to get more fans to purchase tickets and attend your events? HomeTown can help by providing tools, graphics, and templates to help promote your upcoming events. This fall, schools across the country got creative with these resources and ones that they created on their own to promote their events and make it easy for fans to get tickets before the game and at the gate. Here's a look at a few of our favorites.
1. Social Media
The number of people who use social media every day is higher than ever, which means that using social media to promote events helps you reach more people. Things like tweeting the QR code or website link to purchase tickets, creating Facebook events for your upcoming games, or posting a countdown to opening night on Instagram are all ways to grab your social media audience's attention and get them talking and sharing information about your event.
Here are a couple of examples of how schools have promoted ticket sales through social media this fall:
2. PA Announcements
You can also use your school's morning or afternoon announcements to share details about the week's events and how students can get tickets. Or share more information about easy online ticketing and the HomeTown Fan App during PA Announcements at events.
3. Email Marketing
Along with social media, email is a powerful, digital tool to promote your events. HomeTown's system allows schools to export a list of emails of those who have attended events in the past. Then, you can use this list of emails to send notices about upcoming events, like when season tickets go on sale or when your winter sports are live in your online box office.
You may even consider including a pre-sale code to give loyal fans early access to purchase their tickets. Or include a promo code in the email to entice fans to attend an event with a discounted ticket.
4. QR Code Posters
Want to avoid lines at the box office on game night or looking to go totally cashless at the gate? Consider printing large posters in the parking lot or leading up to your box office. These posters can even feature QR codes to your website or to the HomeTown Fan App where they can easily purchase tickets to the evening's event as well as future events all in one place.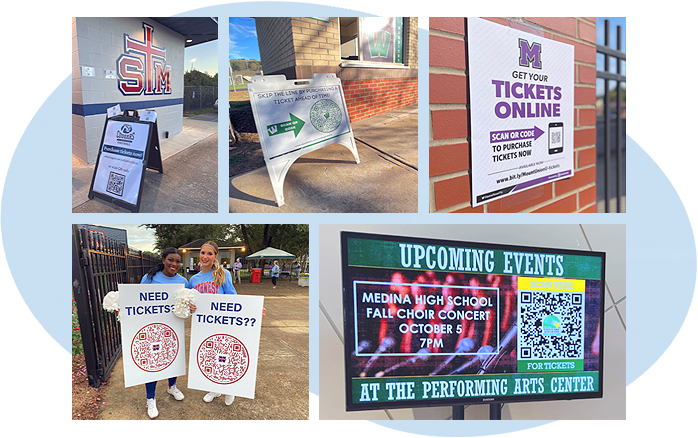 5. On Your Website
With HomeTown, your ticket sales page is located right on your website! This allows you to easily promote your events on the other pages of your site. For example, a school might include a link to their tickets on pages that parents and students frequently view, like the grade login page or page that shows the school lunch menu.