When it comes to managing events, there's a lot to think about. How many people will attend? How can I keep track of attendees? What can I do to keep my event secure? What kind of experience will attendees have at my event?
Today we're answering these questions and sharing how scanning tickets increases security and provides your fans with a professional-level ticketing experience that runs like clockwork, no matter how many people are attending your events.
Professional-Level Ticketing
Think about the last time you went to a professional sporting event, saw a big-name band on tour, or attended a touring theatre production. At the door, they scanned your ticket whether it was on your smartphone or printed, and the staff working the gate confirmed that your ticket was valid. They may have even given you instructions on where to find your seat.
People have come to expect that their tickets will be scanned upon entering a professional venue. They trust this process because it certifies the validity of their tickets and confirms their seats or designated location once they enter. Scanning tickets at the entrance gives attendees that professional-level experience at your venue, where they can have confidence in your system and fast, stress-free entry allowing them to focus on enjoying themselves and what snacks they want from your concession stand.
Scanning
Why does scanning tickets matter? Scanning ensures that every person who enters your event presents a valid, un-duplicated ticket. Scanning attendee's tickets upon entry also helps eliminate the possibility of overwhelming a wi-fi or data network since only a few devices are scanning tickets, rather than hundreds or thousands of attendees also trying to self-redeem mobile tickets at the same time.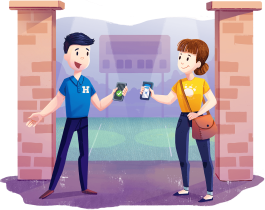 Scanning the tickets registers their attendance in the system and allows the event organizer to track exactly how many people are in the venue. Knowing exactly how many fans are attending your events allows you to compare data points like how many people came to an event vs. how many tickets were purchased. Capturing this attendance information can help you gain new insights to plan for staffing, concession supplies, and more when you look at the data over time. You can also use your list of attendees to promote upcoming events and announce when tickets are on sale for highly anticipated games or events, helping you get more fans in the seats.
Security
Knowing the number of attendees and who they are is also crucial in emergency situations, like severe weather or an unexpected venue issue. You can feel rest assured and prepared knowing that you have easy access to that information using the HomeTown system. 
The guest list feature in the HomeTown Gate app allows ticket scanners to see which tickets have already been redeemed for an event as well as check-in attendees who have lost their tickets or whose phones died by simply looking their name up in the guest list, eliminating the need for a will-call window. This definitive list of attendees can be used as a helpful resource in case a list of those present at an event is needed.
Having a clear list of attendees and their contact information can also allow you to communicate information about rescheduled events, while still keeping your venue secure and preventing anyone without a valid ticket from entering.
Want to learn more about why fast scans mean happy fans? Follow HomeTown Ticketing on our social media to see scanning in action at events across the country!