Keep Your Fans Posted on Twitter
Twitter is one of the best resources to share quick bits of information with your fans and community, like celebrating a game-winning touchdown, announcing a rain delay, or sharing your box office URL. Keep fans engaged by live tweeting the most important plays and use the retweet feature to share fan-created content. Want your tweets to reach an even bigger audience? Tag @HomeTownTix, and we might repost it!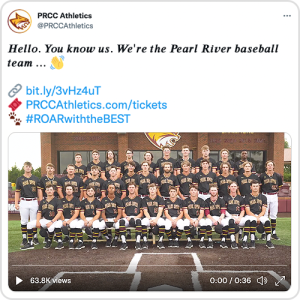 Get Creative With Video
According to Sprout Social, 66% of social media users say short-form video is the most engaging type of social content. No need to worry about joining in the latest dance craze though- there are plenty of fun ways to promote events with video content.
One favorite example comes from the Pearl River Community College Baseball Team, who put their parody skills to use in an MLB spoof video. They were able to use their sense of humor to capitalize on a pop culture trend and, more importantly, share with their fans how to get tickets to their games.
Use the Graphics Provided by HomeTown
As a part of your onboarding with HomeTown Ticketing, your Client Success Manager will provide you with customized graphics to advertise your digital ticketing options. Use the graphics to grab attention and share your URL in the social post to direct fans to your Online Box Office.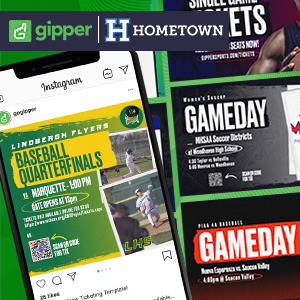 Promote Your Events with Gipper!
Together, Gipper and HomeTown are making it easier than ever to promote your events and drive revenue through ticket sales in no time at all. Create high-quality, visual branded graphics for your event in seconds, on any device, without needing any design experience.
Check out Gipper's ticketing templates and add your HomeTown QR Code to drive revenue through ticket sales! Learn more about Gipper and access our exclusive partnership discount!
Use Facebook Events to Reach More People
Facebook makes it easy to promote events and share the link to your HomeTown Box Office for online ticket sales ahead of the event. Want to learn more about this helpful feature? Check out our recent blog post: Using Facebook Events to Sell More Tickets